01 SPECIFICATIONS
At present, more and more people want to experience glamping tent houses. Novel things always attract people's attention. To build a good glamping tent house, the necessary hardware needs to be strictly chosen. RAXTENT has been committed to luxury glamping tent houses and bringing high-quality tent houses to clients.
The luxury safari glamping tent house looks like a unique building, the rooftop has two peak-tops, making itself look particularly tall and stronger. The glamping tent house has spacious space, the layout is flexible and changeable. The luxury safari glamping tent house is very suitable for family resorts and luxury hotels.

Size: The area is 60sqm, 10.4m in length, 6m in width, 2.6m in wall height and 5.7m in roof height. 
Material: The main material of glamping tent house is galvanized steel and covered with 850g/sqm PVC. 
Feature:High tensile strength and tear strength,100% waterproof, self-cleaned, cost-effective solutions for glamping tent and resort. 
Accessory: The glamping tent house accessory including glass door, bathroom, wood floor, platform etc.. 
Wind and Snow load: The glamping tent house windload is 100KM/H and snowload is 75KG/SQM.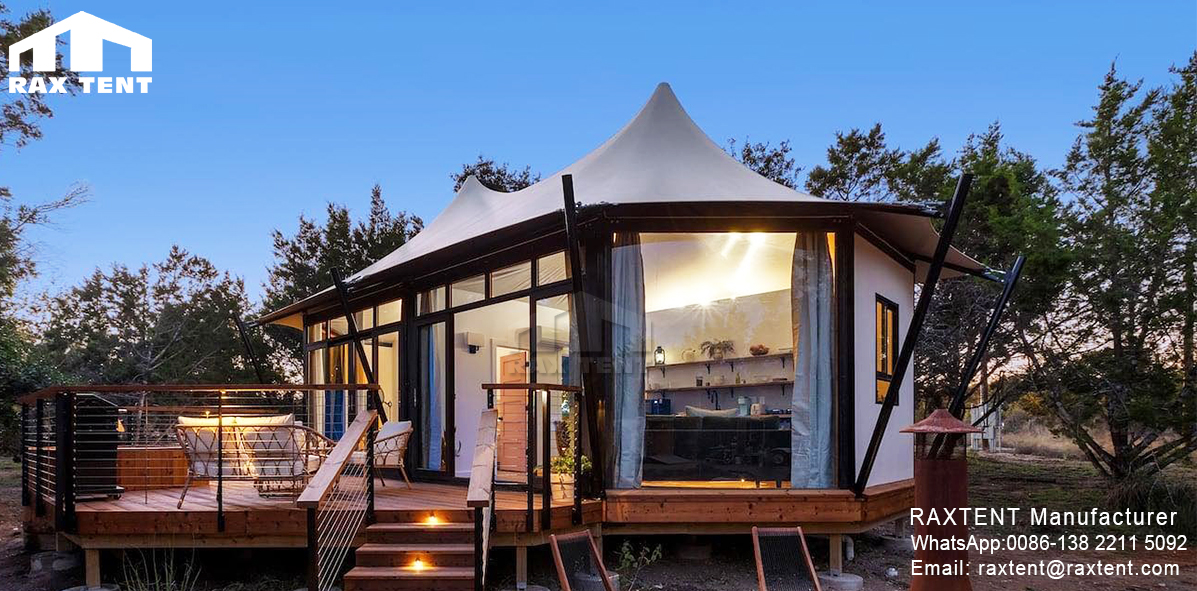 People are eager for nature, but people don't want to give up comfort and delicious. In order to meet the needs of tourists better, luxury glamping tent houses are a great choice which have better software and hardware facilities, this also is the key to enhancing the core competitiveness of the camp.
Glamping Tent House Structure
The glamping tent house is made of galvanized steel and covered with PVC fabric, sturdy and durable. The wall is combined with solid walls and tempered glass walls and has the advantages of thermal insulation, and soundproof. The glamping tent house is easy to install and can be used for at least 20-30 years.
Glamping Tent House Usage
The glamping tent house is just like a house for permanent living. The size of the glamping tent house is 60sqm and can be divided into multiple functions depending on needs. Such as a living room, a kitchen, a bathroom, two bedrooms or a large bedroom.
Glamping Tent House Accessory
A good glamping tent house for family resort is not only unique in shape but also has the advantage of being comfortable and entertaining. The Indoor has floor-to-ceiling glass windows for stunning views and natural light, and various electrical equipment. Outdoor has a big gazebo, and tourists can have outdoor dining, yoga, stargazing, spa, BBQ, and so on.
03 MANUFACTURE DATA
RAXTENT keeps improving every product, now, the glamping tent house has also been upgraded. In order to allow clients to understand better of glamping tent houses, We have installed a new sample in our factory, every detail can show to clients directly.
04 CUSTOMER RECOMMEND
RAXTENT has been operating in the tent industry for more than 10 years, we have a professional team, providing professional product design, manufacturing production, sales, installation and other one-stop services. We produce high-quality tent products and serve every client with heart. Welcome to sending inquiries to us.
Customer Recommend
The glamping tent house is very excellent, the installation is very easy. If I have any problem, RAXTENT will help me quickly, an attentive manufacturer.
I recommmend RAX TENT!