01 SPECIFICATIONS
RAXTENT has focused on the dome house industry since 2013, the dome house can be customized from 3M to 80M. At present, RAXTENT dome house has been exported to more than 100 countries. The dome house is environment-friendly and full of functions, the dome house is widely used for family resorts, camps, luxury hotels, restaurants, lounges, sunrooms, yoga domes, auto shows, celebrations, exhibitions, etc… the 6m family resort dome house is one of most common usages and can be installed anywhere you want, easily and quickly.

Size: 6M dome house, best for family resort dome house, other size is OK.
Material: The main material of the family resort dome house is galvanized steel coated white and covered with 850g/sqm PVC.
Capacity: The 6M resort dome house is 28 sqm, can hold 1-2 beds and bathroom for 2-4 people to live in.
Accessory: The 6M dome house for family resort accessory including glass door,bathroom, wood floor, platform etc..
Wind and Snow load: Dome house windload is 100KM/H and snowload is 75KG/SQM.

The dome house is a half-spherical mesh structure, composed of galvanized steel tube, steel tube, and stainless steel, the surface of the dome house is covered with PVC fabric, 100%waterproof, scratch-resistant, tear-resistant, and UV-resistant.
Dome Frame
The frame of the dome house is usually made of galvanized steel and coated with white color, which clients can change different colors, such as black, or gold. The dome house frame can be used for at least 8-10 years and can be repeated for installation and removal, conveniently and practically
Family Resort Dome House
Family resort is one of the most common usages of 6M dome house. People can install a dome house outdoor for the resort in their leisure time, get away from the hustle and bustle of the city and move to nature. They can enjoy a comfortable and quiet life in the resort dome house.
Dome house with bathroom
For a more comfortable resort dome house life, the dome house can be set up with a bathroom, sofa, table, air-conditioner, etc… RAXTENT provides separate bathrooms, including showers, toilet, sink that are all available.
03 MANUFACTURE DATA
RAXTENT has a professional engineer team, their average age of work is at least 6 years, and they are familiar with the whole process of production and installation of the dome house, any installation problems please feel free to contact us, we will help you as soon as possible.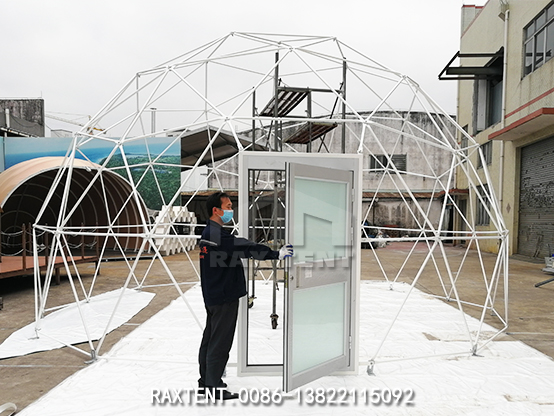 04 CUSTOMER RECOMMEND
RAXTENT doesn't satisfied with the existing achievement, we still develop and reform constantly, now the dome house has undergone 3 iterations of updates, this is the main reason why RAXTENT dome house is widely favored by clients and placed orders with RAXTENT more than once.
Customer Recommend
I have cooperated with RAXTENT many times, I recognize the quality of their dome house and team service. Looking forward to the next purchase.
I recommmend RAX TENT!