01 SPECIFICATIONS
RAXTENT geodesic dome houses can be customized from 3M to 80M, the 6M and 7M geodesic dome houses are the most popular in glamping hotels. Our dome houses have been exported to more than 100 countries, such as Canada, America, Switzerland, Japan, etc... In order to more comfortable glamping experience, the geodesic dome house can be set up with a double bed, bathroom, kitchen, air-conditioner, heater, etc… RAXTENT has exclusive custom thermal insulation systems for some countries with extremely cold winter. Our winter dome house can be normally used in winter even when its snowing.

Size: 6M dome house, best for family resort dome house, other size is OK.
Material: The main material of winter dome house is galvanized steel coated white and covered with 850g/sqm PVC.
Capacity: The 6M winter dome house is 28 sqm, can hold 1-2 beds and bathroom for 2-4 people to live in.
Accessory: The 6M dome house accessory including glass door,bathroom, thermal insulation, wood floor, platform etc..
Wind and Snow load: Dome house windload is 100KM/H and snowload is 75KG/SQM.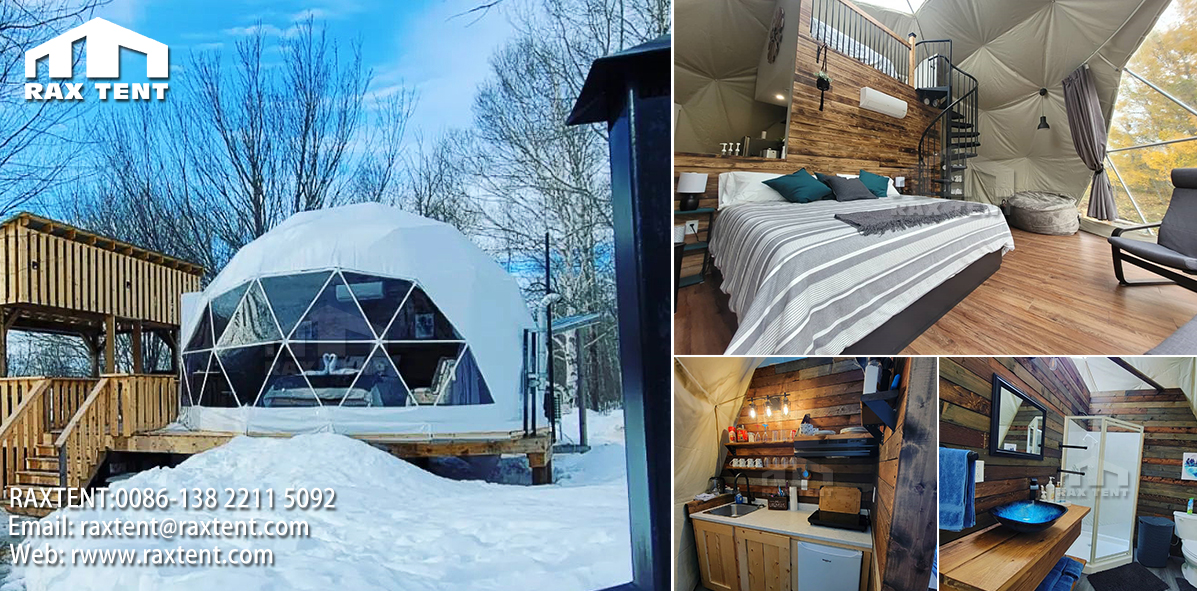 RAXTENT has many cases about winter dome houses with thermal insulation systems, any questions can contact us feel free.
Dome Frame
The dome house is a half-spherical mesh structure made of galvanized steel coated white. The dome structure has the advantages of high strength, good stability, and is not easy to deform. The dome house structure can resist rain and snow effectively and is very easy to install.
Dome Cover
The surface of the winter dome house is covered with 850g/sqn white PVC fabric and can be chosen in other colors. The dome fabric contains a black-out layer to effectively block ultraviolet rays, and the double-sided PVC coating can be scratch-resistant, tear-resistant, fire-retardant, and flame-retardant.
Dome thermal insulation
In terms of thermal insulation, RAXTENT exclusively customized thermal insulation system, which is made of aluminum foils, has the advantages of thermal insulation, moisture-proof, shading, and anti-corrosion. After using thermal insulation, the indoor and outdoor temperature difference of the dome house is at least 12℃.
Now, RAXTENT thermal insulation system has been widely used in glamping hotel at home and abroad and deeply recognized by clients and tourists. For more living comfortable, the winter dome house can set up a fireplace, making the dome house warmer.
03 CUSTOMER RECOMMEND
RAXTENT doesn't satisfied with the existing achievement, we still develop and reform constantly, now the dome house has undergone 3 iterations of updates, this is the main reason why RAXTENT dome house is widely favored by clients and placed orders with RAXTENT more than once.
Customer Recommend
I very love the dome house. I live in a cold site, but I don't feel cold in the dome house, it's so great! The quality of the dome house is also very satisfactory and it was a great purchase.
I recommmend RAX TENT!